14 days self-quarantine for FREE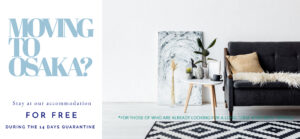 Moving to Osaka,Japan?
You're going to need somewhere to self-quarantine.
Staying in a hotel?
 For 2 weeks? That's going to be expensive
What if you could stay in your own private apartment, for 2 weeks, and register your residence in Japan all while applying to rent a long term apartment?
DG Real Estate has fully-furnished rental apartments
which can be rented short-term by those arriving in Japan during the current quarantine regulations.
Best part? It's free!!* For those who are already looking for a long term apartment with us.
*We charge a cleaning fee when you leave the apartment.
Extra options available too:
We can also come pick you up from the airport, and take you to your apartment.
And register your address in Osaka while you are self-quarantined.