Golden Week Holiday Notice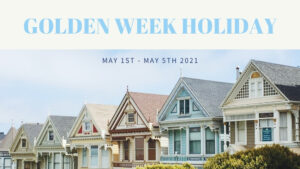 We would like to express our sincerest gratitude for your continued patronage.
By the way, our company will be closed over the Golden Week Holiday  as per the following schedule.
Golden Week Holiday dates:2021/5/1 (Sat) ~ 2021/5/5 (Wed)
We apologize for any inconvenience caused during your busy schedule, and thank you in advance for your understanding.
Inquiries received on the website during the winter holidays will be answered after May 6, 2021 (Thu) when we are back in the office.
We sincerely apologize for the inconvenience, and we appreciate your understanding on this matter
We are looking forward to helping you after the holiday.